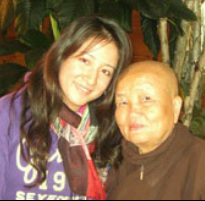 Greetings Everyone and Welcome to CMC!

The Canadian Mindfulness Centre is a not-for-profit organization that specializes in teaching members of the Greater Toronto Area mindfulness meditation and mindful living following the traditions of Zen Master Thich Nhat Hanh (Thay) and evidence-based treatment interventions. Mindfulness means paying attention in the present moment, with intention and non-judgmentally. Furthermore, mindfulness is the thread that connects all aspects of our living experiences and it is an approach we hope our members can also cultivate in all areas of their lives through practicing at our centre.

The idea of CMC emerged in August 2009, during a summer retreat that Chau Du (Founder) attended in Plum Village, France. She was blessed with having Sister Chan Khong, Thay's first fully ordained monastic disciple, mentor her dharma family (called "Fresh Lotus") and for the duration of her stay. One afternoon over tea, Sister Chan Khong planted the seed of CMC by encouraging Chau to create a space for people to come together to practice mindfulness meditation and mindful living. Three years later, with the generous help of her family and friends CMC came to fruition.

CMC was created on the basis that every individual has the ability to live in the present moment through moment to moment awareness, acceptance, and compassion. When we are practicing mindfulness, we are also giving our full attention to what we are doing and we become a witness to what is present in our experience.

CMC currently offers weekly meditation classes, specialty workshops and mindfulness-based interventions, including Mindfulness-Based Cognitive Therapy (MBCT) and Mindfulness-Based Eating and Awareness Training (MB-EAT). It is also the sister company of Mindful BodyWorks Yoga Studio.

---
---