Befriending Your Body with Mindful Eating, October 26-29, 2018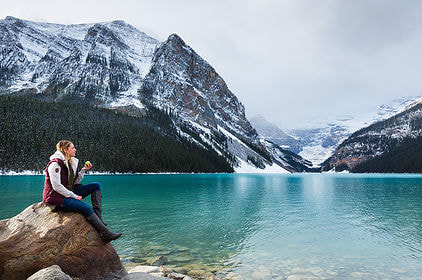 Fairmont Lake Louise, Alberta
Retreat Description
Join Dr. Susan Wnuk, Ph.D., C. Psych. and Chau Du, MSc., RYT, where you will learn to befriend your body through mindful eating. Mindful eating involves paying attention to all your senses while eating, including the taste, appearance, aromas, and physical sensations. Over time, practicing mindful eating helps you to make wiser, more balanced choices about food and eating. Mindful eating is about creating a new relationship with food and your body, rather than a type of diet. It involves paying attention to your body's signals of hunger and fullness, your food preferences and knowledge, and your own history, culture and experience.
Integrating mindfulness practice with skills from clinical psychology, Susan and Chau will guide you to connect with your inner and outer wisdom in making choices to nourish your body and mind. In this retreat, they will facilitate various mindfulness practices, including eating and walking meditation, and mindfulness of the breath and body to cultivate awareness and nourishment. Additional practices to foster self-compassion and acceptance will be integrated. They will also summarize research on the science of mindfulness and how this information can be applied to your daily life. Susan and Chau will provide a welcoming environment for participants to share their experiences, ask questions, and trouble-shoot obstacles to their unique practices.

Coverage for up to $500 for registered psychological services may be available through your extended health care plan or insurance. Please contact your insurance provider for information. A receipt will be provided by Dr. Susan Wnuk upon request.
Retreat Takeaways
Set a personal intention for befriending your body and food
Learn ways to befriend your body as a source of wisdom through acceptance and self-compassion
Learn your unique triggers for overeating, emotional eating and loss of control over your eating
Gain insights about the relationship between thoughts, feelings and bodily sensations associated with eating
Identify the stories about eating, your body and yourself that no longer serve you
Learn to use and trust your own body's signals of hunger, fullness, and satiety to guide you when to start and stop eating
Connect with the nurturing qualities of food and practice honouring your own food preferences
Identify ways to incorporate mindful eating techniques into daily life on an ongoing basis, in order to cultivate a healthier relationship with food
Retreat Audience
Individuals wishing to incorporate mindful eating practices into their daily lives to cultivate a friendlier relationship with food and their bodies
Individuals wishing to learn new skills to address negative body image or eating habits like emotional eating, overeating and loss of control
Retreat Includes
3 nights accommodation at Fairmont Chateau Lake Louise in a Deluxe room
Welcome cocktail reception Friday evening
Mindful meals - breakfast, lunch & dinner on Saturday & Sunday; breakfast on Monday. Gratuities included. Dietary requirements can be accommodated.
Daily morning and afternoon workshop classes with Dr. Susan Wnuk and Chau Du
Daily morning yoga
Amenities at Fairmont Chateau Lake Louise
Free time daily


Retreat Rates:
To reserve this package or inquire for more details, please email lakelouisewellness@fairmont.com or call +1 403 522 1638 and reference the "Befriending your Body with Mindful Eating" retreat. Due to limited space, online bookings will not be available
.
---